SOUTHERN HOTEL Ste Genevieve MO Bed and Breakfast HOME PAGE

FEATURED in House Beautifuls' article "The 50 Most Beautiful Small Towns In America" Ste Genevieve was chosen #25 and the picture used was the front porch of The Southern Hotel & our welcoming porch rockers.
FEATURED IN THE NOVEL "A STEP OF FAITH" FOURTH book in "THE WALK SERIES"
BY BEST SELLING AUTHOR RICHARD PAUL EVANS
2010 Recipient of the Mathews Preservation Award Presented by
The Foundation for Restoration of Ste. Genevieve
U.S. COMMERCE ASSOCIATION AWARD for BEST of STE GENEVIEVE BED & BREAKFAST
Oldest Longest Operating Hotel or Lodging Establishment in the United States West of the Mississippi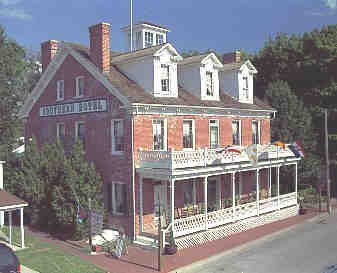 You're cordially invited to enjoy the fine accommodations of this 229- year-old landmark. Step gently into the time when riverboats plied the mighty Mississippi and weary travelers looked forward to the hospitality of this famous hotel.
At the SOUTHERN HOTEL the graciousness of the past is carefully blended with modern comforts to make your stay a very special experience. This graceful Federal-style building was built in the 1790's. It has been operating continuously as a hotel since 1805 and was reported to have the finest accommodations between Natchez and St. Louis.
Each of the romantic guestrooms
contains a collection of country Victorian antiques and delightful "whimsies".
We have FREE WIFI
Start your day off with a cup of our special blend coffee & a sweet treat. For those who are not coffee drinkers, at breakfast we also offer hot or ice tea, hot cocoa or milk. Juice is always served with breakfast. Breakfast consists of a main entree (casserole, quiche, or strata), a meat serving, a fruit serving & a bread serving (muffin, coffee cake or croissant).
When visiting the SOUTHERN HOTEL please feel free to walk in the garden
and enjoys its peace and surprises. Before you turn in for the evening be sure to stroll through the garden transformed with 4,000 twinkle lights into a place of solitude & enchantment. You will be glad you did. .
Upon your arrival at the SOUTHERN HOTEL you will find on the first floor two parlors
, a game room and a dining room. A quilt is always in progress, a permanent tribute to the guests who now stay with us forever.
The SOUTHERN HOTEL is located in the Historic Down Town at the Square.
If you like our site and after your stay Please come back and Vote for my Inn
Southern Hotel may have a room for this weekend Call 1-573-883-3493
Gift Certificates may be purchased by calling (573) 883-3493
You have seen the rest, now Bed Down with the Best
146 South Third Street
Ste. Genevieve, Missouri 63670
(573) 883-3493
Innkeepers: Mike & Cathy
www.southernhotelbb.com
Email: mike@southernhotelbb.com


<![CDATA[