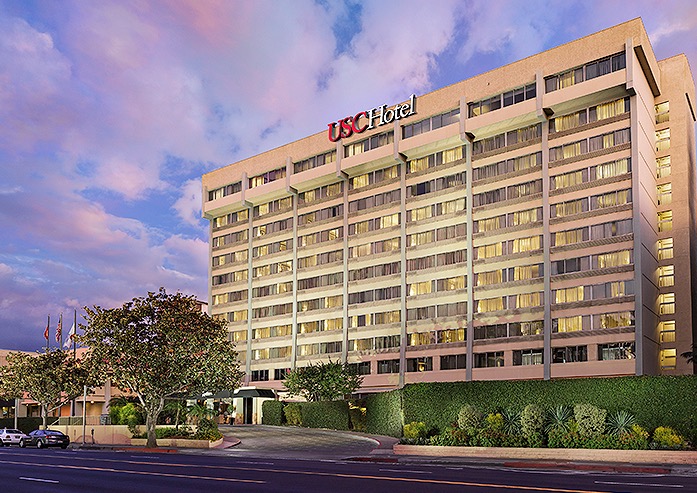 USC Hotel & Conference Center Your browser does not support the video tag.
Welcome toUSC Hotel
Welcome to USC Hotel. Owned and operated by the University of Southern California, our hotel is conveniently located adjacent to the USC campus, next door to the Galen Center, and a three-minute walk to the LA Memorial Coliseum and Exposition Park. We're also within two miles of downtown LA venues such as the STAPLES Center, LA Live, and the LA Convention Center.
Whether you are here for USC, Exposition Park, or to explore the City of Angels, USC Hotel is the perfect spot to call home.
Top Reasons to Stay
Green Initiatives
USC Hotel is the first university owned lodging property to receive a prestigious Green Seal silver-level certification.
Your Stay is Life-Changing
Book the Best Available Rate (BAR) on our website and we'll make a $5 donation per night toward the Heritage Scholarship.
USC's Only Official Hotel
USC Hotel is on USC's gorgeous campus, featuring the state's most historic standing university.
Walk to LA's Top Attractions
The LA Memorial Coliseum, Los Angeles Football Club, and some of LA's finest museums are within walking distance in Exposition Park.
Enjoy Southern California Hospitality
Every member of our staff is excited to welcome you to our campus and the Trojan Family the moment you walk through our doors.
California cuisine
From post-game drinks and classic American eats at McKay's to pub favorites at the Lab Gastropub, USC Hotel offers a variety of on-site dining options to please every palate.
Trip advisor reviews
If visiting USC, I highly recommend staying at the USC HOTEL
Excellent service and convenient to the university. Eateries are close to the University and ride-sharing pickup has minimal wait at this location. 
Wow! My husband and I stayed here and we were VERY impressed. The customer service was top notch! Easy accurate direct booking, great parking, an amazing restaurant next door, beautiful room, and check out was simple! Everything was perfect! It made our visit to Los Angeles and attending our concert even extra special!! This is definitely our place we will always go back to and we highly recommend!!
The Place to Stay Near USC and Exposition Park
Great location across the street from the university and around the corner from Exposition Park… The staff is friendly, helpful, and knowledgeable. Good access to transportation—taxis, Lyft, Uber, and just one block from the Metro.
Great Location!
Wonderful rooms and breakfast next door. Walking distance to museums and beautiful rose garden. USC campus right out the front door. Easy to get to location, right off freeway. Staff very helpful and efficient.
A Perfect 10
Our student prom was held in the Grand Ballroom this year. The food, service, parking, banquet staff, front desk, housekeeping were all a perfect 10. Thank you and we will be back next May 2019 for another senior prom celebration.
Meetings & Events
Our hotel offers a variety of meeting and event spaces as well as access to all of USC campus' extensive venue offerings, for a truly unique experience.
Explore
The city

USC Hotel
3540 S Figueroa St
Los Angeles CA 90007
USC Hotel is just a three-minute walk from the Galen Center and within two miles of many major event venues.
Hollywood Bowl
10.5 mi.
2301 N Highland Ave
Los Angeles, CA 90068
Universal Studios
12.1 mi.
100 Universal City Plaza
Universal City, CA 91608
Rose Bowl Stadium
13.9 mi.
1001 Rose Bowl Dr
Pasadena, CA 91103
Exposition Park
0.5 Mi.
700 Exposition Park Dr
Los Angeles, CA 90037
Shrine Auditorium
0.4 mi.
665 W Jefferson Blvd
Los Angeles, CA 90007
Dodger Stadium
5.6 Mi.
1000 Vin Scully Ave
Los Angeles, CA 90012
STAPLES Center
1.8 Mi.
1111 S Figueroa St
Los Angeles, CA 90015
View map
USC Hotel
Hollywood Bowl
Universal Studios
Rose Bowl Stadium
Exposition Park
Shrine Auditorium
Dodger Stadium
STAPLES Center
Thank you for contacting us.
We will be getting in contact with you shortly.
Personal Information Meeting Information Privacy Policy agreement
I have read and agree to the Privacy Policy.
Yes, I would like to receive emails with exclusive specials and offers.
© 2020 USC Hotel All Rights Reserved